YOUR OWN GREETINGS STAMP: ROSES (DOMESTIC)
The stamp sheet Your Own Greetings Stamp I – Roses released in 2005 is being reissued as a promotional regular and personalised stamp sheet with no value indication on 8 October 2013. In response to customer demand, the special feature of the reprint is the inscription "BELFÖLD" (DOMESTIC) as the value indication, that is to say the stamps may be used to send a standard letter in Hungary. Three rose motifs alternate in the stamp designs. The sheet of 20 stamps with a label was produced based on the design by the graphic artist Imre Benedek using offset printing at the banknote print works Pénzjegynyomda. The perforated size of the stamps is 36.25 x 25.2 mm, and that of the label is 18 x 25.2 mm. The imperforated size of the sheet is 297 x 210 mm. The label may not be used on its own to pay for postage.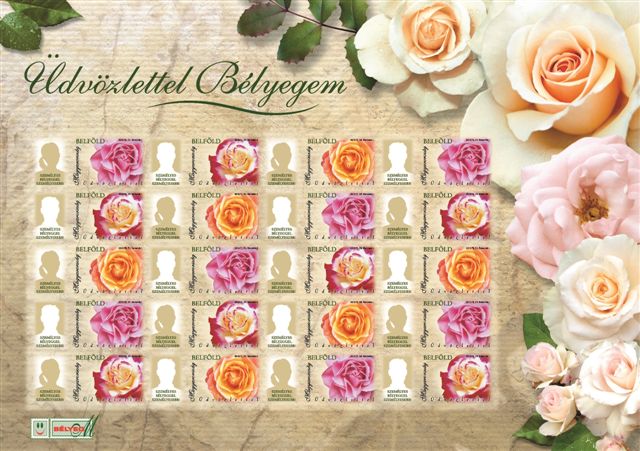 At the same time, in order to cater for market demand, the stamp sheets Your Own Budapest Stamp and Your Own Message Stamp II– Pens 35 have been reprinted in unchanged form. Likewise, the stamp sheet Your Own Message Stamp I – Map 35 has been reprinted, on which, in contrast with the earlier issue, the perforation now continues to the edge of the sheet also in the bottom and upper margins.

Kapcsolódó oldalak