2014 THE YEAR OF THE HORSE
2014 THE YEAR OF THE HORSE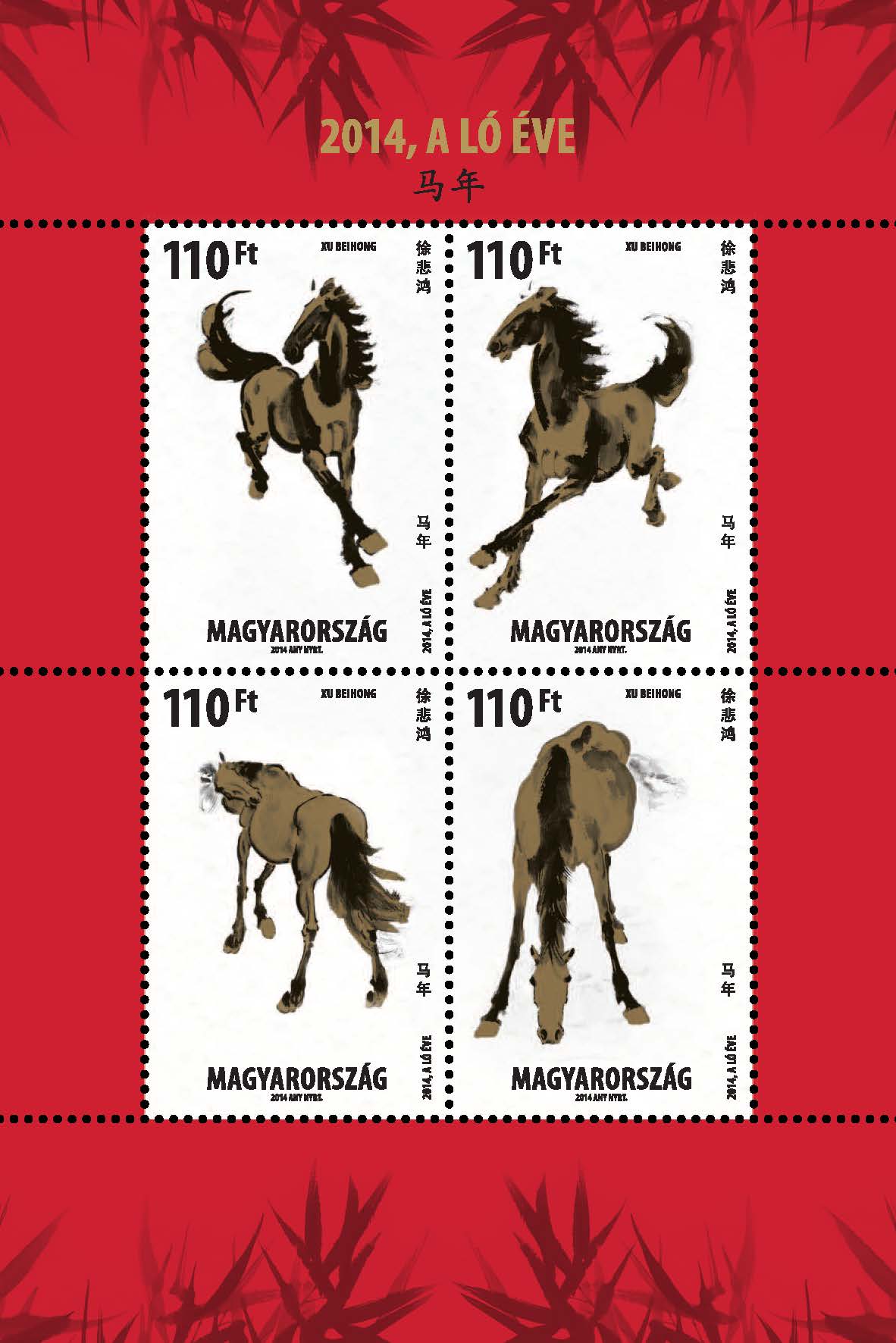 2014 is the Year of the Horse in the Chinese zodiac, which Magyar Posta is celebrating on a miniature sheet. According to the Chinese zodiac, this year will be the year of relaxation, childhood, joy, goodness and receptiveness. People born under the sign of the Horse are dynamic and have abundant material resources. The miniature sheet was made using paintings by the Chinese artist Xu Beihong (1895–1953), who is esteemed mainly for his works in ink. The first day cover and postmark for the miniature sheet was designed by the graphic artist István Weisenburger. Eighty thousand copies of the miniature sheet were produced on fluorescent fibre stamp paper as a security feature by ANY Security Printing Company. The miniature sheet is available at selected post offices and Filaposta in Hungary from 6 January, but may also be purchased from Magyar Posta's online store.
This stamp issue was made by Magyar Posta in cooperation with the Inter-Governmental Philatelic Corporation (IGPC). The philatelic agency has business relations with over 70 countries concerning the design, production and marketing of stamps. Source: igpc.com
The Year of the Horse officially begins on 31 January 2014 and lasts until 18 February 2015. People born under this sign are thought to be communicative, popular, cheerful, and know how to enjoy themselves. They are spontaneous and exploit every opportunity. Horse people are fiery, stubborn and impulsive but can show restraint when necessary. They are very hard workers but only get involved if it is profitable for them.
Praise and recognition is appreciated by them, but sometimes they are vain and proud. They like freedom and shy away from restrictions and constraints, but nevertheless respect tradition. Whatever area they work in, they will do well. Their character is strong and decisive. They like to travel especially in company. Source: twice.hu
The signs of the Chinese zodiac are repeated every 12 years. The last Year of the Horse was in 2002 and the next will be in 2026.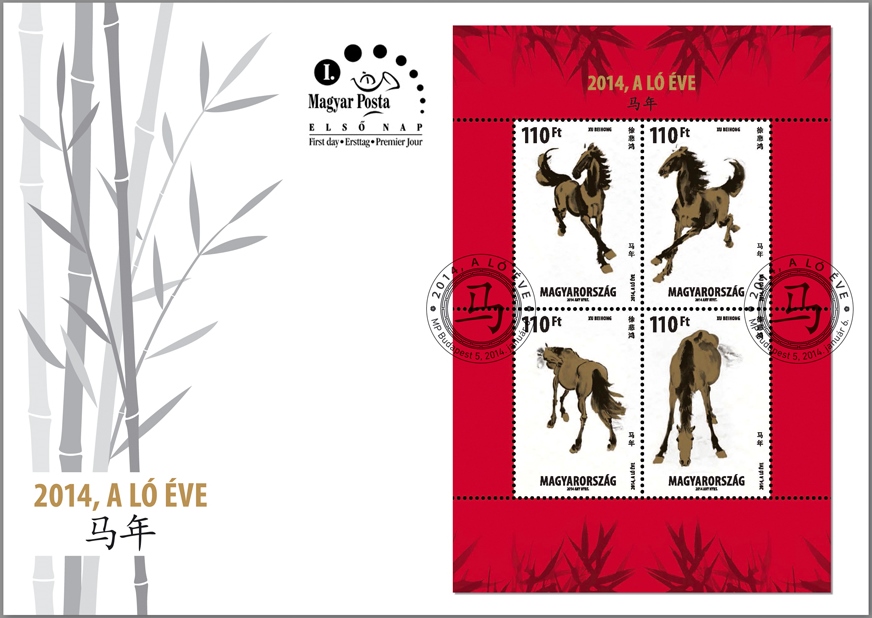 YEAR OF THE HORSE:
Order code: 2014010040011 (miniature sheet),
2014010060012 (FDC)
Date of issue: 6 January 2014
ŸTotal face value: HUF 440
Number of copies: 80,000
Imperforate size of the miniature sheet: 100 mm x 150 mm
Perforate size of the stamps: 30.4 x 50 mm.
Produced by ANY Security Printing Company
Designed by Xu Beihong (stamps), István Weisenburger (FDC, postmark)