The Hungarian Meteorological Service is 150 years old
Magyar Posta is marking the 150th anniversary of the foundation of the Hungarian Meteorological Service by issuing a commemorative stamp. Fifty thousand copies of the special stamp designed by the graphic artist Barnabás Baticz were produced by ANY Security Printing Company. The new issue is available from Filaposta, philately specialist services, certain post offices and www.posta.hu-n.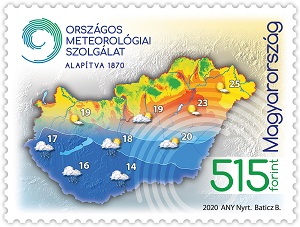 In Hungary observations concerning the weather date from as early as the 11th century and from 1540 onwards regular references of various sorts to climatic developments can be found.
On 6 April 1868 the Hungarian Academy of Sciences debated a proposal to establish an independent Hungarian earth magnetism institute. On 8 April 1870 Francis Joseph countersigned the deed of foundation of the Royal Hungarian Central Institute for Meteorology and Earth Magnetism, which was published in the Budapest Gazette on 3 May the same year. Guidó Schenzl became the first director, whose main duties included organising meteorological measurements, developing a network of weather stations and evaluating the readings as well as exploring the climatic conditions of the country.
The current competence and remit of the Hungarian Meteorological Service is defined in Government Decree 277/2005 of 20 December 2005: it is an organisation charged with collecting and analysing meteorological data and information, which has increasingly become a body providing information.
The commemorative stamp shows an imaginary meteorological map of Hungary. The headquarters and jubilee logo of the Hungarian Meteorological Service appear on the first day cover, and the postmark is a stylised drawing of the seal used when the Service was founded.