Year of the families 2018
2018 is the Year of Families, which Magyar Posta is marking by issuing a special souvenir sheet.Sixty thousand numbered copies of the souvenir sheet designed by the graphic artist Barnabás Baticz were produced by the banknote printing company Pénzjegynyomda. The new issue will go on sale from 24 May 2018 and from that date will be available at first day post offices and Filaposta in Hungary but may also be ordered from Magyar Posta's online store.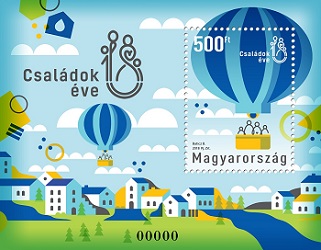 Living in a family is good, being a mother is good, being a father is good, the Year of Families proclaims, because families form the basis of every community and thus the foundations of the country as well. As a mark of respect for the smallest community of people, the Ministry of Human Capacities announced that 2018 would be the Year of Families, which focuses on caring parents, siblings, seniors, children and children yet to be born. Just as it is highly important whether we choose sand or rock as a foundation for building a house, it is also crucial to choose the right basis for our family. What is the right basis? Obviously, this could only be love. However, besides love, the extent to which the environment supports all members of the family also plays an important role in ensuring a full and happy family life. This is one reason for creating the Year of Families 2018 because this also means a financial contribution and moral support for young couples looking to establish a home and start a family, for large families, for people returning to work after having a child, and seniors.
The Year of Families 2018 has its own logo and unique image, in which building blocks symbolise the successive elements of the family support scheme. During the year, the organisers will provide constantly updated information materials and arrange a rich local and national programme of events where useful advice for creating and maintaining a happy and balanced family life is available, enabling participants to spend an enjoyable time at a variety of community-building events. Details are given on the organisers' website and social media pages.
The above mentioned logo and elements of the Year's image provided the concept for the souvenir sheet. These lead into a visual world interwoven with playful elements that immediately appeal to viewers including families. The main motif of the stamp is a hot air balloon, which is highlighted by a fine layer of varnish in the composition. The first day cover focuses on certain parts of this world by enlarging the design of the logo and the special postmark uses a stylised depiction of a family that is also to be found on the stamp.

Sources: www.csaladokeve.hu; www.csalad-ok.hu; www.facebook.com/csaladokeve2018