World Aquatics Championship in Budapest-Balatonfüred, 2017
Magyar Posta welcomes the 17th World Aquatics Championship to be held in Budapest and Balatonfüred by issuing a commemorative stamp. The stamp has been produced in 200,000 copies by ANY Biztonsági Nyomda Nyrt. based on the artwork created by Graphasel Design Studio and graphic artist Tibor Tatai. The new issue will be available at first day post offices and Filaposta from April 5, but may also be ordered from Magyar Posta's online store.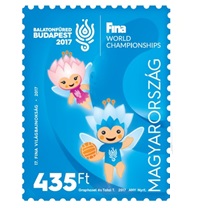 World championships in aquatics have been organised under the auspices of the International Swimming Federation (Fédération Internationale de Natation FINA) since 1973. In the first championship, champions were awarded in Belgrade in four categories - swimming, synchronized swimming, diving and men's water polo. 43 years after the first championship, the 17th world aquatics championship will be hosted by Budapest and Balatonfüred. This is not only the most important sporting event of the year in Hungary, but - following a steady development in recent decades - the championship has become a world sporting event which, after the Olympic Games, generates the greatest interest.
The right to host the 2017 World Championship was awarded by the International Swimming Federation to Guadalajara, Mexico, but in February 2015 Guadalajara withdrew, and, despite the short preparation period available, Hungary undertook to organise the 2017 World Championship.
The choice of the competition venues also provides an opportunity for the participants and visitors to enjoy the sights of Budapest and Hungary. The main venue of the World Championship will be the newly constructed Danube Arena complex where the swimming and the diving events will be held. The giant high diving will be held on the section of the Danube in front of the Parliament building, the super high diving on the Danube embankment opposite the Parliament at Batthyány Square, the synchronised swimming in the mobile pool that will be built at the venue of the City Park (Városligeti) Ice Rink, while the water polo will be held in the Béla Komjádi Swimming Pool and the Alfréd Hajós National Swimming Pool. The open water swimming competition events will take place in Balatonfüred, one of the most pleasant towns situated on the northern shore of Lake Balaton. The opening ceremony of the World Championship that starts on July 14 and ends on July 30, 2017 will be held on the section of the Danube in front of the Castle Garden Bazaar, while the closing ceremony at the City Park Ice Rink.
The commemorative stamp whose atmosphere is determined by the light blue base colour which makes a reference to the water shows the World Championship mascots and the logo of the World Championship. In addition to the design motifs of the event, the first-day envelope shows the logo of the International Swimming Federation and symbols referring to the sports branches, while the first-day stamp is also decorated with the World Championship logo.

Sources: www.fina-budapest2017.com; www.fina.org; www.wikipedia.org