Harvester and parliament stamp series is 100 years old
Magyar Posta is celebrating the 100th anniversary of the release of the Harvester and Parliament stamp series, which is considered a classic by philatelists, by issuing a definitive stamp with a label. The label of the definitive stamp Your Own Message Stamp IV: Domestic 35 shows a compilation of the 4 and 15 fillér Harvester denominations and the 10 korona Parliament denomination of the Harvester and Parliament stamp series. The new issue was designed by the graphic artist Imre Benedek and produced by the printing company Pénzjegynyomda. It will be available while stocks last at first day post offices and Filaposta in Hungary from 3 October, but may also be purchased from Magyar Posta's online store.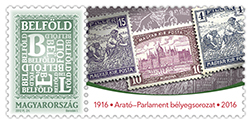 New postal tariffs were introduced on 1 October 1916. At the same time White-Numbered Harvester stamps were issued, which were followed by the release on 1 November of Harvester stamps whose face values were in fillér and Parliament stamps with face values in korona.  The design of the Harvester and Parliament stamp series was a new direction compared to the series used during the previous 17 years, which showed Hungary's mythical bird of prey, the Turul. The composition of the 2 to 40 fillér stamps showing a man and a woman harvesting was by the winner of the 1909 stamp design competition, Ödön Tull, while the drawing of the Hungarian Parliament by the winner of the third place, Vilmos Brandmayer, appeared on the stamps with increments in value from 50 fillér to 10 korona. Later, the value of the 10 and 15 fillér stamps, which was originally issued in white numbers, was printed in the same colour as the stamp like the other stamps in the series.  The 15 fillér White-Numbered Harvester (the first in the series issued on 1 October 1916), the 10 korona Parliament stamp (the highest value in the series, November 1917) and the 4 fillér Harvester (last issued on 26 August 1918) appear on the label of the centenary stamp. The first day cover is based on Ödön Tull's design for the stamp entitled Harvester.
Source: Stamp Museum