Christmas 2016
In line with its tradition, Magyar Posta is celebrating Christmas by issuing a postage stamp. For posting festive greetings, this time self-adhesive stamps of Domestic denomination will be released. The stamps have been produced in sheets containing fifty stamps, and in special five-stamp miniature sheets printed in gold colour ink. The stamp shows a graphic composition recalling a winter Christmas atmosphere, with a couple skating along a heart-shaped line. The novelty was designed by graphic artist Boglárka Nádi and printed by Pátria Nyomda Zrt. The stamp is available at first-day post offices and Filaposta from November 8, but can also be ordered from Magyar Posta's online store.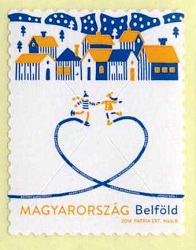 Christmas is the biggest Christian holiday after Easter. According to the decision made at the First Council of Nicaea, the remembrance day of the earthly birth of Jesus Christ is the celebration of joy, peace, family and childhood, of home and homeland. Despite the fact that traditional Christmas is a feast of Christianity, many non-Christians throughout the world celebrate Christmas as a feast of human love. (Source: wikipedia.org)
An interesting detail related to the stamps is that there is a micro writing in four languages hidden in the skating track ("BOLDOG KARÁCSONYT! - MERRY CHRISTMAS - FROHE WEIHNACHTEN! - JOYEUX NOЁL !") which serves as a security element.
The use of graphic elements, the specially illustrated barcode and the festival inscriptions placed on the sheet margin make the printing sheet containing 50 stamps even more interesting. Some of these elements can be found also on the margin of the sheet that connects to the miniature sheet. The barcode used for a special envelope has also been made to match the spirit of the holiday.
During Advent, between November 27 and December 26, this year, too, our customers will have the opportunity to have a Christmas stamp on their greetings sent to their loved ones who live far away. The service is available at any post office.