2018 FIFA WORLD CUP™
Magyar Posta is issuing a special stamp to mark the 2018 FIFA World Cup™. With approval from FIFA, 100,000 copies of the stamp designed by the graphic artist Orsolya Kara were produced by ANY Security Printing Company. The official logo of the 2018 FIFA World Cup™ appears on all issues (stamp, stamp sheet, cover and postmark). The new issue will go on sale from 25 May 2018 and from that date will be available at first day post offices and Filaposta in Hungary but may also be ordered from Magyar Posta's online store.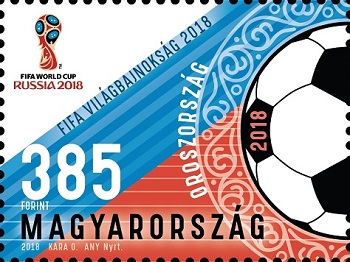 All surveys show that football is the world's most popular sport. Much research has been done by many to explain why this is, but no one has yet found the precise answer. However, several clear conclusions can be drawn from the results of the research. Football's popularity is unwavering and it is far more than simply a sport because it is a hobby, profession, business and entertainment at one and the same time. Not to mention that it fuels emotions as everyone has an opinion about it, a favourite team and favourite players. Perhaps the most important thing about it is, however, that every country has its own national team, and the best of these are gathering in Russia this year to compete for the 2018 FIFA World Cup™.
32 national teams will play matches in refurbished stadiums in eleven Russian cities between 14 June and 15 July 2018. The hosts automatically take part while the other teams, including the defending champions Germany, win the right to participate by playing in qualifiers. The FIFA World Cup™ final is traditionally one of the most watched sports events in the world. Eight nations have lifted the trophy in the 20 finals played to date, Brazil having won the FIFA World Cup™ most times, on five occasions. Hungary has reached the final twice – in 1938 and 1954 – and finished as runners-up on both occasions.
Football and philately have intertwined since the early days as Magyar Posta's first stamps with a sporting theme issued in 1925 included a football scene and the FIFA World Cup™ featured in a Hungarian stamp issue in 1962.
The 2018 FIFA World Cup™ stamps are arranged in a tête-bêche format, i.e. in pairs with one stamp upside-down in relation to the other. The main motif of the stamp is a football positioned over two adjoining stamps, thus creating a whole ball, with the colours symbolising the flag of the host nation in the background. The designs of the first day cover and the postmark feature motifs related to the stamp.
Sources: www.fifa.com; www.wikipedia.org