ZRÍNYI 2026 – DEFENCE AND ARMY DEVELOPMENT PROGRAMME
Magyar Posta is drawing attention to the ZRÍNYI 2026 Defence and Army Development Programme and presents the modernisation of military equipment under the scheme on a special miniature sheet with six stamps.Sixty thousand copies of the numbered miniature sheet designed by the graphic artist István Weisenburger were produced by ANY Security Printing Company. The new issue is available from Filaposta, philately specialist services, certain post offices and www.posta.hu.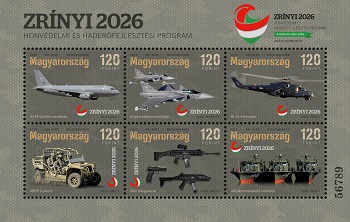 The Programme is the largest and most comprehensive defence programme of the last twenty-five years serving the security of Hungary and its citizens. The primary aim of the Programme is to create a military force equipped with modern vehicles and weapons that are able to provide adequate answers to the security challenges of the age. Using photographs provided by the Ministry of Defence, the sheet presents the innovations of the Hungarian army focusing on vehicles. On the six stamps of the souvenir sheet, air, land and aquatic vehicles as well as small arms can be seen.The sheet, first day cover and special postmark all feature the Programme's logo or a part of it.