Tusványos - A united camp!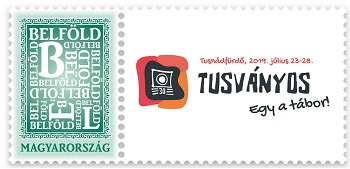 Magyar Posta is issuing a stamp with a label to mark the 30th anniversary of the Bálványos Free Summer University and Student Camp held in Tusnádfürdő. Ten thousand copies of the philatelic novelty made by printing on the label part of the Message IV personalised stamp were produced.
The world renowned Romanian spa town of Baile Tusnad lying on the river Olt has hosted the major international conference and festival that is known as "Tusványos" for years. The aim of the five-day student camp is to encourage thinking together, to bring the nations of the Carpathian Basin closer to each other and to discuss the social problems affecting these countries. Every year tens of thousands of people take part in the event, which, apart from lectures and cultural events, also offers good recreational activities for those attending. After book presentations, theatre performances and events organised by various organisations, visitors are invited to concerts by Hungarian musicians in the evenings. The slogan of the event organised for the 30th time, "A united camp", appears on the label for the stamp as part of the logo made for the anniversary.
Order code:
2019340010031 (stamp)
2019340040031 (sheet)
Issued on: 23 July 2019
Selling price: Domestic (On the date of issue, HUF 120/stamp (HUF 4,200/sheet) pays the postage of a domestic non-priority standard letter up to 30 g, postcard or picture postcard.)
Printing technique:
offset
Number of copies:
10,000 stamps (35 stamps with label per sheet)
Perforated size ofstamp:
18 mm x 25.2 mm
Perforated size of label:36.25 mm x 25.2 mm
Imperforated size: A4
Height of postmark: 39 mm
Links