Soldiers and Stamp Collection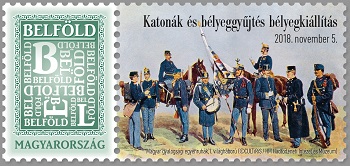 On the 5th November this year an exhibition dedicated to "Soldiers and Stamp Collection" will be held in Budapest, in the Stefania Palace.
To commemorate this event Magyar Posta issues a topical own stamp, on which a picture from the collection of the HM (Ministry of National Defence) Institute and Museum of Military History is depicted.
The image shows different military (foot) uniforms of WWI. The cancellation besides the exhibition also commemorates the 60th anniversary of the Gábor Áron Stamp Collecting Circle of HM.