Renewed Letter Delivery Service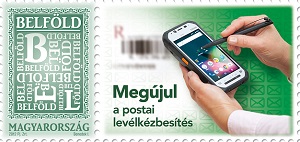 Magyar Posta is issuing a promotional definitive stamp with a label called "Renewed Letter Delivery Service". 175,000 copies of the philatelic novelty made by printing on the label part of Your Own Message Stamp IV Domestic were produced by the banknote printing company Pénzjegynyomda and can be purchased at Filaposta and designated post offices or ordered from Magyar Posta's online store from 9 December.
The reason for the release of the stamp is a tracking development, which is one of the most important postal projects of recent times, carried out as part of the Public Administration and Public Service Development Operational Programme. As a result of the work of the Official Document tracking project, customers will be able to track the progress of their registered letters in addition to that of parcels on the www.posta.hu/nyomkovetes page. Furthermore, the development now allows acknowledgement of receipt by digital mobile device and the recipient's identity to be verified by touching the mobile device with the new type ID card (e-ID).The mobile device for delivery is shown in use on the stamp's label, while an individual identifier, the Registered tracking label, appears in the background. The postmark also features a hand-held postman's mobile device.
Order code:
2019370010031 (stamp)
2019370040031 (sheet)
2019370060032 (FDC)
Issued on: 9 December 2019

Face value/selling price:
Domestic (On the date of issue, HUF 120/stamp (HUF 4,200/sheet) pays the postage of a domestic non-priority standard letter up to 30 g, or a postcard or picture postcard.)
Printing technique: offset
Number of copies: 175,000 stamps (35 stamps with label per sheet)
Perforated size ofstamp:
18 mm x 25.2 mm
Perforated size of label:
36.25 mm x 25.2 mm
Imperforated size: A4
Printed by
Pénzjegynyomda Zrt.
Designed by
Barnabás Baticz (stamp label, postmark)
Links