ICF Canoe Sprint World Championships, Szeged
Magyar Posta is marking the 2019 Canoe Sprint World Championships to be held in Hungary by issuing a special stamp. One hundred and fifty thousand copies of the stamp designed by the graphic artist Ármin Benjámin Mandel were produced by ANY Security Printing Company. The new issue will go on sale from 3 June 2019 and from that date will be available at first day post offices, Filaposta, philately specialist services, certain post offices and www.posta.hu - n.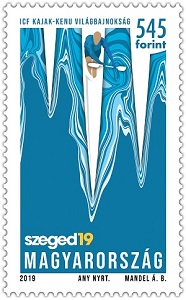 The Hungarian Canoe Federation was given the opportunity of organising the 2019 Canoe Sprint World Championships, making this the fourth time that Hungary has staged such a world championship.
Date of the event: 21-25 August 2019, location: Maty-ér, Szeged. Major improvement to facilities mean that athletes and visitors can enjoy the benefits of a state-of-the-art course at the world championships.
Among other developments, a bridge and cycle path is being built, and the course infrastructure and grandstand are being renovated.
On the special stamp and the first day cover the graphic artist depicted moments from the competition. In the special postmark a graphic composition formed by the kayak and canoe paddles supplements the official logo of the world championships.