HEROES OF WORLD WAR I
Magyar Posta is honouring the heroes of World War I by issuing a special souvenir sheet. Forty thousand copies of the numbered souvenir sheet designed by the graphic artist Glória Hefelle were produced by the banknote printing company Pénzjegynyomda. The new issue will go on sale from 25 October 2018 and from that date will be available at philately service points and Filaposta in Hungary but may also be ordered from Magyar Posta's online store.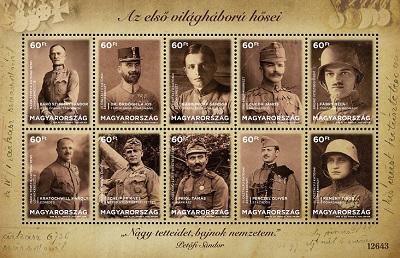 Because of the assassination of its heir apparent on 28 June 1914 in Sarajevo, the Austro-Hungarian Monarchy sent an ultimatum with a 48-hour deadline to Serbia on 23 July. After its rejection, Austria-Hungary declared war five days later on 28 July. At the very start of the war, it was uncertain whether the conflict would remain a local clash or escalate into a world war affecting all the great powers. The European powers already had mobilisation and war plans in place decades beforehand. The military leaders intended to carry out their strategies in the event of the outbreak of a war as quickly as possible in order to resolve the conflict speedily and to secure a swift victory.
Thus the outbreak of the world war had no explicit aggressors and "victims", but was driven by the intention of the major powers to portray the legitimacy of their own war in the best light. The politicians of the participating powers remained loyal to their allies and the agreements made with them throughout the war. Hungary, as part of the Dual Monarchy, sent 3.5 million soldiers to the war, of whom more than 660,000 died. Ten heroes who took part in World War I are depicted on the stamps of Magyar Posta's commemorative souvenir sheet: BARON SÁNDOR SZURMAY DE UZSOK INFANTRY GENERAL – KNIGHT'S CROSS OF THE MILITARY ORDER OF MARIA THERESA
DR. LAJOS ÖRDÖGH RESERVE FIRST LIEUTENANT – MILITARY MERIT CROSS, 3RD CLASS
BARON SÁNDOR PROFF RESERVE FIRST LIEUTENANT – MILITARY MERIT CROSS, 3RD CLASS JÁNOS CUCOR LANDSTURM INFANTRYMAN – IRON MERIT CROSS
BÉLA FÁBRY RESERVE SECOND LIEUTENANT – BRONZE MEDAL FOR BRAVERY
KÁROLY KRATOCHWILL COLONEL – KNIGHT'S CROSS OF THE MILITARY ORDER OF MARIA THERESA
FRIGYES SCHEIP LANDSTURM NON-COMMISSIONED OFFICER – GOLD MEDAL FOR BRAVERY TAMÁS PRIGL SAPPER – SILVER MEDAL FOR BRAVERY, 2ND CLASS
OLIVÉR PERCZEL CAPTAIN – MILITARY MERIT CROSS, 3RD CLASS
TIBOR KEMÉNY FIRST LIEUTENANT –MILITARY MERIT CROSS, 3RD CLASS
Source: elsovilaghaboru.com/centenariumiemlekbizottsag/hu/; wikipedia.hu