Christmas 2018
Magyar Posta is issuing a stamp to celebrate the 2018 festive season. Similarly to the previous years, the postage stamp for sending good wishes by post is self-adhesive and has no value indication, bearing the inscription "Domestic". It is released in standard and special editions. The standard edition is in sheets of fifty stamps, while the special edition is a miniature sheet of five stamps. The festive stamp depicts a snowman while the first day cover shows children and animals decorating a Christmas tree together. The special postmark is a storybook reindeer motif. The stamp was designed by the graphic artist Edit Szalma and was produced by Pátria Nyomda Zrt. The new issue will be available at first day post offices and Filaposta in Hungary from 5 November, and may also be ordered from Magyar Posta's online store.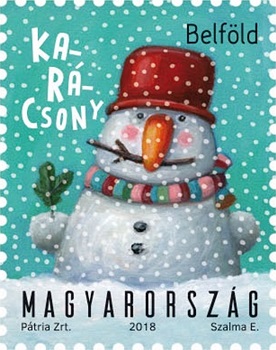 At Christmas nature also celebrates by spreading a white cover over the scars of the landscape and the greyness of towns, making everyone feel the magic of a white Christmas. The traffic stops and the world falls silent – everyone is longing for the festivities. The festive season can provide the ideal opportunity for the whole family, friends and relatives to build a snowman together. The snowman's white colour evokes purity, youth and innocence in us, the same characteristics that typified the birth of Jesus Christ. This is the Christian celebration whose true meaning still lives on in the most intense way today. A frequent symbol of this period is the snowman, which can now be shared with others by purchasing the stamp.
The press sheet of 50 stamps is enlivened by visual elements on the barcode and festive greetings in Hungarian, English, German and French on the selvedge. A grid, which was previously removed during printing, aids separating the stamps from the sheet.On the miniature sheet flexographic printing was combined with sparkling paint printing, resulting in shiny snowflakes on the stamps.
Once again this year, the special service for sending mail with season's greetings bearing the postmark of the village of Karácsony, meaning Christmas in Hungarian, to loved ones far away is available during the Advent and Christmas period between 2 and 26 December 2018. The Christmas Postmark service may be requested at any post office.