Castles in Hungary
Magyar Posta is issuing the next release in the Palaces and Castles series commenced in 2017 under the title Castles in Hungary. Forty thousand copies of the miniature sheet of eight stamps, which was designed by the graphic artist Eszter Domé, were produced by ANY Security Printing Company. The new issue will be available from Filaposta, philately specialist services, designated post offices and www.posta.hu from 2 September 2019.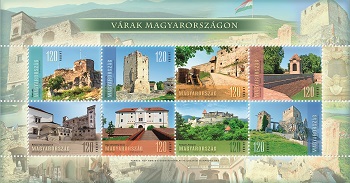 The new release shows the following historic castles in Hungary: Sirok Castle • the country's sole surviving cave castle. Kinizsi Castle, Nagyvázsony • the castle of Pál Kinizsi, King Matthias's legendary undefeated military commander. Eger Castle • the site of the victory halting the
1552 Ottoman onslaught. Szigetvár Castle • where in 1566 Miklós Zrínyi and his soldiers perished heroically when heavily outnumbered by the Ottoman army. Rákóczi Castle, Sárospatak • the emblematic castle of the Rákóczi dynasty, a fine example of Hungarian renaissance architecture. Pipó Castle, Ozora •the castle of the military leader Pipo de Ozora (Filippo Scolari), Count of Temesvár,which from the outset functioned both as a residence and the centre of the estate.Visegrád Castle • built by King Béla IV's wife, Queen Mary, extended by Charles Robert and fully renovated during the reign of King Matthias. Csesznek Castle • erected during the great castle building period after the Mongol invasion, it was converted into a major fortification by the Garai family at the end of the 14th century. The Csesznek branch of the Esterházy family rebuilt it in the baroque style in the 17th and 18th centuries, but it was destroyed by an earthquake and fire in the 1810s.
The background of the miniature sheet is composed of a montage of the exteriors, interiors and facades of the castles.