100 years of the Pécs Stamp Collectors' Club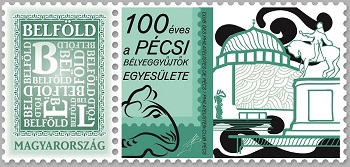 Magyar Posta is celebrating the centenary of the foundation of the Pécs Stamp Collectors' Club by issuing a thematic personalised stamp. Eight thousand copies of the stamp with a label designed by Boglárka Huczek were produced.
On 21 August 1919 the Pécs Stamp Collectors' Club was founded by 29 members in the Royal Café in Pécs. The Club has been an active member of the National Federation of Hungarian Philatelists since its establishment in 1952.The sights of Pécs appear on the label for the stamp. Behind the equestrian statue of John Hunyadi stands the most monumental creation of Turkish Istamic architecture in Hungary, which is a symbol of Pécs. The mosque of Pasha Qasim today functions as a Roman Catholic church, the Candlemas Churc of the Blessed Virgin Mary. The human figure in a tunic in front of the building, which is usually simply called the inner city church, symbolises Roman roots and continuity. Beneath the inscription "100 years of the Pécs Stamp Collectors' Club" is a simplified drawing of one of the bull's head waterspouts from the 4 metre high fountain made by the Zsolnay Manufactory.
Order code:
2019350010031 (stamp)
2019350040031 (sheet)
Issued on: 21 August 2019
Selling price: HUF 250/stamp, HUF 8,750/sheet
Printing technique: 8,000 stamps (35 stamps with label per sheet)Perforated size ofstamp:
18 mm x 25.2 mm
Perforated size of label:
36.25 mm x 25.2 mmImperforated size: A4
Designed by
Boglárka Huczek (label, postmark)
Height of postmark: 39 mm
Links