25 Years of the Hungarian Olympic and Sport Philatelic Association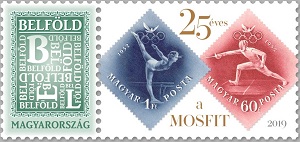 Magyar Posta is marking the 25th anniversary of the foundation of the Hungarian Olympic and Sport Philatelic Association (MOSFIT) by issuing a thematic personalised stamp. Five thousand copies of the stamp with a label designed by the graphic artist István Weisenburger were produced. The new issue is available from Filaposta, philately specialist services and certain post offices.
MOSFIT was formed in 1994 with the support of the National Federation of Hungarian Philatelists and the Hungarian Olympic Committee. As its name indicates, the Association brings together the collectors of Olympic and sport-related stamps, and philatelic and paraphilatelic releases with interests in thematic, traditional and postal historical maximum cards, postcards, souvenir sheets and cinderella stamps as well as people who, apart from philatelic issues, also collect memorabilia connected with sports and the Olympics including signatures, flags, coins, awards, certificates, sport photographs and newspapers.
MOSFIT maintains a close relationship with the Hungarian Olympic Committee and the Hungarian Olympic Academy, and takes part in the organisation of the International Collectors Meeting every year.
The label belonging to the stamp shows the gymnastics and fencing stamps from the 1952 Helsinki Olympics stamp series..