Hungarian saints and blesseds
Magyar Posta is continuing the presentation of Hungarian saints and blesseds in 2019. On this occasion the numbered souvenir sheet honours the martyrs of Kassa: Saint Mark, Saint Melchior and Saint Stephen. Together with the standard edition, a special edition using gold and silver ink and a likewise numbered black print limited edition are also being released. The new issue was designed by the graphic artist Imre Benedek and produced by ANY Security Printing Company. The new release is available from Filaposta, philately specialist services, certain post offices and www.posta.hu.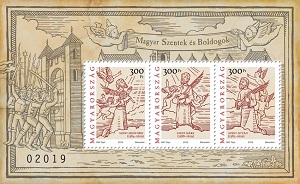 On 7 September 1619, 400 years ago, three priests who refused to abjure the Catholic faith died a martyr's death in Kassa (today Košice, Slovakia) at the hands of Prince Gábor Bethlen's hajduks. They were Marko Krizin, the canon of Esztergom and archdeacon of Komárom, who was of Croatian origin, and two Jesuit priests, the Polish Melchior Grodziecki and the Hungarian Stephen Pongrácz. The beatification of the three martyrs was proposed by Péter Pázmány, the archbishop of Esztergom, as early as 1628, but they were only beatified during the papacy of Pius X in 1905. They were canonised by Pope John Paul II in Košice on 2 July 1996. Their feast day is celebrated by the Church on the day of their martyrdom, 7 September.
The Hungarian Saints and Blesseds VII special stamp set includes the standard, special and monochrome philatelic editions of the special souvenir sheet. The last of these may only be purchased in this compilation.