CHinese zodiac: 2016 the year of the monkey
The stamp can also be ordered from Magyar Posta's web shop.
2016 is the Year of the Monkey in the Chinese zodiac, which Magyar Posta is celebrating by issuing a miniature sheet. The main motif of the two different stamp images dominated by different colours is a monkey, illustrated in a calligraphic way, supplementing the inscriptions "2016" and "YEAR OF THE MONKEY" as part of the composition.The miniature sheet was produced in 60 000 copies by Pénzjegynyomda Zrt., based on the design created by Katalin Rácz-Fodor. The new product is available from 8 February, depending on the availability of stocks, at first day cover post offices and at Filaposta, and it can also be ordered from Magyar Posta's web shop.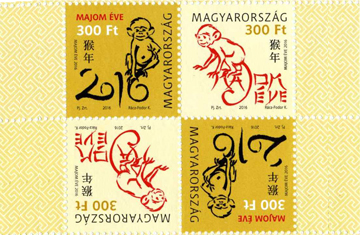 The Year of the Monkey starts on 8 February 2016 and ends on 27 January 2017 and it follows the Year of the Goat. According to some sources, the good and bad features of the monkey are united in this period, so anything can happen. A really optimistic year can be expected, which will bring abundance and motivation. It increases humour and wit in us, improves the flow of communication, and helps to endure tense times with dignity and with ease. This year also holds successes for us, the entrepreneurial spirit and the impetus of innovation are emphasised. The Year of the Monkey will be favourable for new enterprises, for undertaking risks and realise rebel ideas. The credulous will be better off arming themselves against swindlers, because only those who are attentive and penetrating can have success. The Year of the Monkey is the ideal time for making use of one's talent and important ideas as successfully as possible. Those who act and take the first steps towards progress in time can hope for an exceptionally fruitful future.The signs of the Chinese zodiac are repeated every 12 years. The last Year of the Monkey was in 2004 and the next will be in 2028. According to the plans, the series will continue in 2017 by issuing a stamp on the Year of the Rooster.
Source: officina.hu, ezo-vilag.hu