130 years of the Hungarian Parliament in the Inter-Parliamentary Union
Magyar Posta is issuing a special souvenir sheet with two stamps to commemorate the Hungarian Parliament having been part of the Inter-Parliamentary Union for 130 years since its foundation. The souvenir sheet was designed by the graphic artist Eszter Domé and 60,000 perforated and 4,000 imperforated versions were produced of it by ANY Security Printing Company. The new issue is available from Filaposta, philately specialist services, certain post offices and www.posta.hu.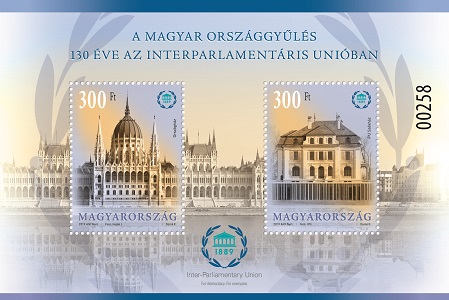 The Inter-Parliamentary Union currently embraces the legislative bodies of 179 countries. The Union was established at the first parliamentary conference held in Paris on 30 June 1889 by the representatives of the parliaments of 9 countries including one from the Hungarian Parliament. Hungary has been an active participant in international parliamentary diplomacy and cooperation from the beginning. Since the foundation in 1889, Budapest has hosted the general assembly of the world organisation on three occasions (1896, 1936, 1989) and, apart from these, numerous special policy events have taken place in the Hungarian capital. The main ideas formulated at the time of the IPU's foundation – democracy, strengthening parliamentary institutions, peace and security, and international cooperation – are evergreen objectives which are of fundamental importance today as well. The Hungarian Parliament is the main motif of the numbered commemorative souvenir sheets, the first day cover and the special postmark. One of the stamps on the souvenir sheet depicts the IPU headquarters in Geneva.
.