The Hungarian Royal Geological Institute was founded 150 years ago
Magyar Posta is marking the 150th anniversary of the foundation of the Hungarian Royal Geological Institute by issuing a commemorative stamp.Two hundred and twenty thousand copies of the new stamp designed by the graphic artist Imre Benedek were produced by ANY Security Printing Company. The new issue is available from Filaposta, philately specialist services, certain post offices and www.posta.hu.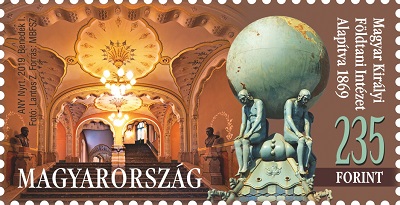 The Hungarian Royal Geological Institute was the first state centre for geological research in Hungary, whose foundation was approved by the Emperor Francis Joseph. During the one hundred and fifty years of its existence, the institute has undergone numerous transformations and currently it operates under the name of the Mining and Geological Survey of Hungary.
A country's geological values – such as crude oil, natural gas, coal, uranium ore, metals indispensable for industry, various building materials, subterranean water reserves or geothermal energy – determine its welfare to a large extent. Their discovery and utilisation is the organisation's main objective apart from dealing with climate strategy issues.In the composition of the stamp, a view of the main staircase of the Institute's Art Nouveau building in Stefánia Road designed by Ödön Lechner as well as the iconic globe on top of the building can be seen. The first day cover shows palaeontological finds and the postmark has a stylised drawing of the building's façade.